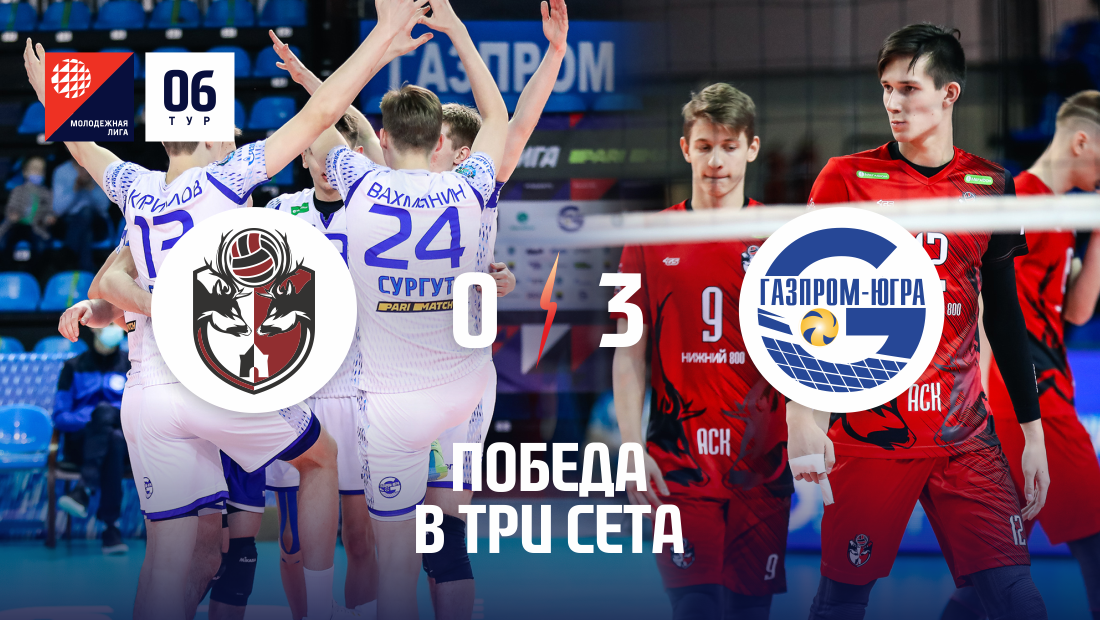 Victory in three sets
30.01.2021 / 23:00
After the first, a five-set meeting with guests from Nizhny Novgorod, our team tuned in for a difficult game. In the first set "ASK-2" effectively attacks Kirillov's serve, then the Nizhny Novgorodians score an ace. Score – 0:2. But Pavel Vakhmyanin is attacking here, and the guests kick out – equal score. Alexander Slobodyanyuk scores an important goal for us, but "ASK-2" is catching up again. When counting 9:8 today's birthday boy Slobodyanyuk gives an ace and by the middle of the set we arrive with a minimal advantage 12:11. Serving - Danil Voronchikhin . Blockout – in "ASK-2", next - ace Danila on the pitch, the "Stars" block works, again ace Voronchikhin and the first time-out of the Nizhny Novgorod team. After the coaching break, Pavel Vakhmyanin closes ASK's attack with a single block, our block Slobodyanyuk-Bessogonov is working again and the guests have a second timeout. Only when counting 20:12 Nizhny Novgorod were able to withdraw from Danil Voronchikhin's innings. Наши соперники рискуют, make mistakes, they have – out attack and score – 23:15, but the people of Surgut are also mistaken, believed in victory early, miss a few break balls and Andrei Chirkov already scored 24:20 forced to take time out. But again our bloc and the final score of the party are good 25:20.
Second set and again equal play in the opening – score 8:8. Kirillov gives ace and time-out to the "ASK-2" coach – score 11:9 In our favor. "Star of Yugra" continues to gain points. The Vakhmyanin-Bessogonov bloc buries the guests' attack, our block works again - 14:10. Further – Maxim Kirillov's attack and ASK's second timeout. После тренерских установок гости результативно атакуют, the block of Nizhny Novgorod is working and as a result – equal score 18:18, but feeding to the network does not allow the "ASK-2" command to come forward, and we have – Slobodyanyuk's good attack, score 23:19. Teams exchange serves out, everyone is at risk. On serving the set-ball, again attack "ASK" out-of-bounds and the second set – our 25:20.
Max Kirillov starts the third game with an ace. Further – good in attack Pavel Vakhmyanin. 2:0 and again both teams have a defective serve, но гости атакуют в пятую зону, Voronchikhin answers with a pipe, 6:4 on the board. Alexander Slobodyanyuk gives an ace, and our block Voronchikhin-Bessogonov closes the attack of the Nizhny Novgorod residents and the coach of "ASK-2" has a timeout, score - 9:5. And after ace Kirillov, when counting - 13:9, for the second time-out of the guests, Pavel Vakhmyanin's attack takes place again, again Maxim Kirillov issues two aces in a row and the opposing team is removed from the Zvezda filing only when the score 17:10. At the end of the set Alexander Sappo, replacement, beautifully throws the ball over the block - score 23:15. The game ends with the score 25:18. More than a confident victory for the Surgutyans!
ASK-2 (Nizhny Novgorod)

0
-
3

Ugra star
Details
| Date | Time | Championship |
| --- | --- | --- |
| 30.01.2021 | 17:00 | RUSSIAN CHAMPIONSHIP 2021. MEN. YOUTH LEAGUE |
Results
| | | | | |
| --- | --- | --- | --- | --- |
| ASK-2 (Nizhny Novgorod) | 20 | 20 | 18 | 0 |
| Ugra star | 25 | 25 | 25 | 3 |