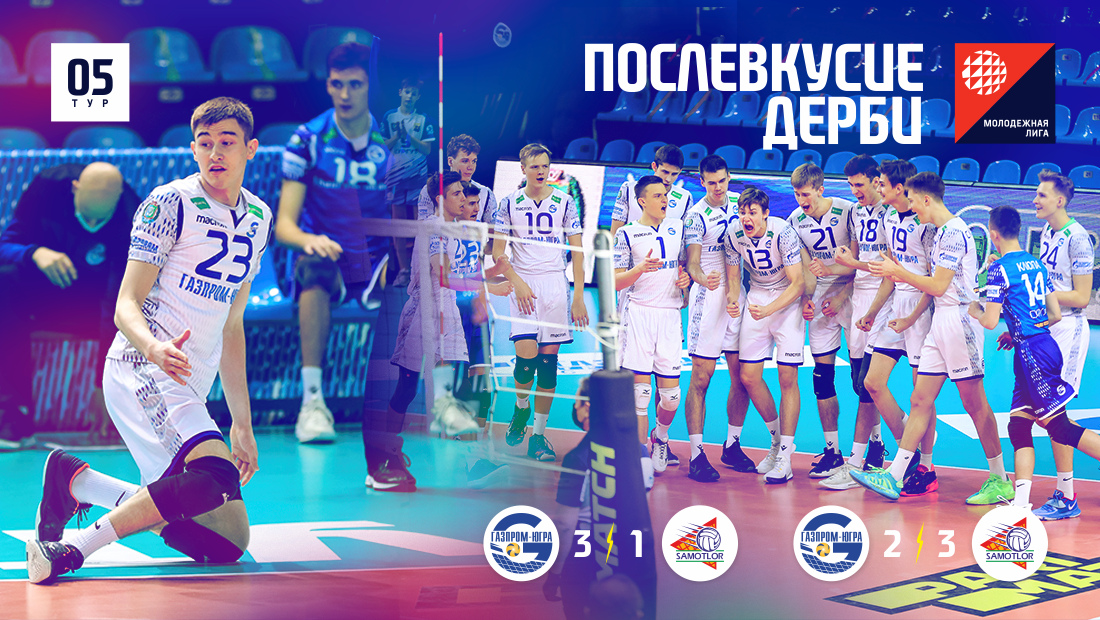 Derby aftertaste
21.01.2021 / 15:46
18 and 19 January "Star of Yugra" held two principal meetings with neighbors from "University". Our neighborhood and geographic, and in the standings. And if Surgut and Nizhnevartovsk are unlikely to change places on the map, then in the table they could well - in the case of a double success of Surgutyans.
The first match created all the prerequisites for this, even the players from Ugra-Samotlor, Nikita Palamoshin and Nazar Litvinenko, who were dispatched to help, could not do anything. Zvezda Ugra has its own guys, sniffed super league gunpowder, and they were good - Alexander Slobodyanyuk chalked up 19 points, Maxim Kirillov competently conducted his partners and lingered on the pitch the longest. The course of the match wore, however, distinct youthful flavor, when rivals took turns running protracted serial failures. In general, the residents of Surgut had less of them., and the final spurt in the fourth set from the mark 19:19 on 25:19 confirmation of this.
The next day, Zvezda Ugra had every chance to bypass Universitet in the standings - we won two games with a very noticeable advantage. Veli in the fourth, but the same failure occurred, which you see so often at the youth level. Growth implies swings and one can only hope, that young volleyball players will benefit from it in the form of accumulated experience. 2:3, "Star of Yugra" scored one point more than the opponent, but remained in fifth place in terms of the number of victories. A little offensive, but, on the other hand, the result is still quite decent.
It means, that the fight for a place in the coveted six is ​​in full swing. The next tour starts next Thursday, 28 january, in Surgut, our rivals will be "ASK-2" and "Zenit-UOR" twice, currently occupying 11th and 8th places respectively. We need to increase the supply of victories, to feel confident before the last tour in Kemerovo, where we will play with Kuzbass-2 and Novosibirsk Lokomotiv-SShOR. The chances of ultimate success are still high, you just need to withstand psychological pressure and show the game, we are capable of.
Ugra star

3
-
1

university (Nizhnevartovsk)
Details
| Date | Time | Championship |
| --- | --- | --- |
| 18.01.2021 | 17:00 | RUSSIAN CHAMPIONSHIP 2021. MEN. YOUTH LEAGUE |
Results
| | | | | | |
| --- | --- | --- | --- | --- | --- |
| Ugra star | 25 | 25 | 17 | 25 | 3 |
| university (Nizhnevartovsk) | 22 | 23 | 25 | 19 | 1 |
university (Nizhnevartovsk)

3
-
2

Ugra star
Details
| Date | Time | Championship |
| --- | --- | --- |
| 19.01.2021 | 15:00 | RUSSIAN CHAMPIONSHIP 2021. MEN. YOUTH LEAGUE |
Results
| | | | | | | |
| --- | --- | --- | --- | --- | --- | --- |
| university (Nizhnevartovsk) | 16 | 25 | 13 | 25 | 15 | 3 |
| Ugra star | 25 | 20 | 25 | 23 | 10 | 2 |