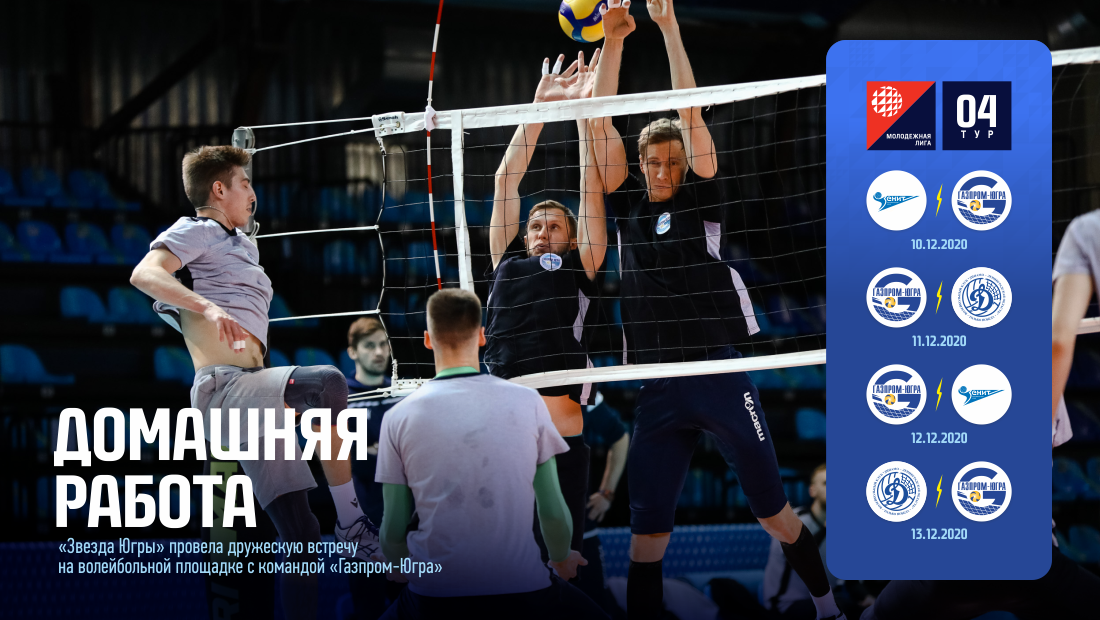 homework
09.12.2020 / 12:30
Yesterday "Ugra star" held a friendly meeting on the volleyball court with the team "Gazprom-Yugra". We interviewed the head coach of the youth team Andrei Chirkov:
Andrey Alekseevich, tell, what attitudes were on the game with the Superleague team and what goals do you set for the upcoming youth round?
We have one goal - to reach the final of the league and, if possible, win a worthy place in the standings, but for this, home tour, of course, win and earn maximum points. The guys have a desire, there are opportunities.

In the game with Gazprom-Yugra, each team solved its own problems. The elders acted as the main team, they also 11 December is not an easy game with St. Petersburg Zenit and the friendly meeting was uncompromising, with full dedication. we, in a game with a strong opponent, showed their qualities as a well-coordinated team. Two sets were won by the Gazprom-Yugra team, one batch is left for us.
Can you single out any of the players?
Gazprom-Yugra – flawless in attack Rajab Shahbanmirzaev, and our captain showed leadership qualities Pavel Stradomsky. Played well Pavel Tebenikhin. Hopefully, that he will not lose his passion for the upcoming tour.
What do you think of the opposing teams?
What is there to think, gotta play. No weak teams in the Youth League. This was demonstrated by the Orenburg team, who didn't seem very prepared after quarantine, but managed to resist us in games 2 tour, so you have to tune in to every game and play it seriously. We are ready for this.
Thanks Andrey Alekseevich. Побед нашей команде.
---
First game tomorrow. Watching and cheering for the "Star of Yugra".
Broadcast, as always, on the site «TV start».